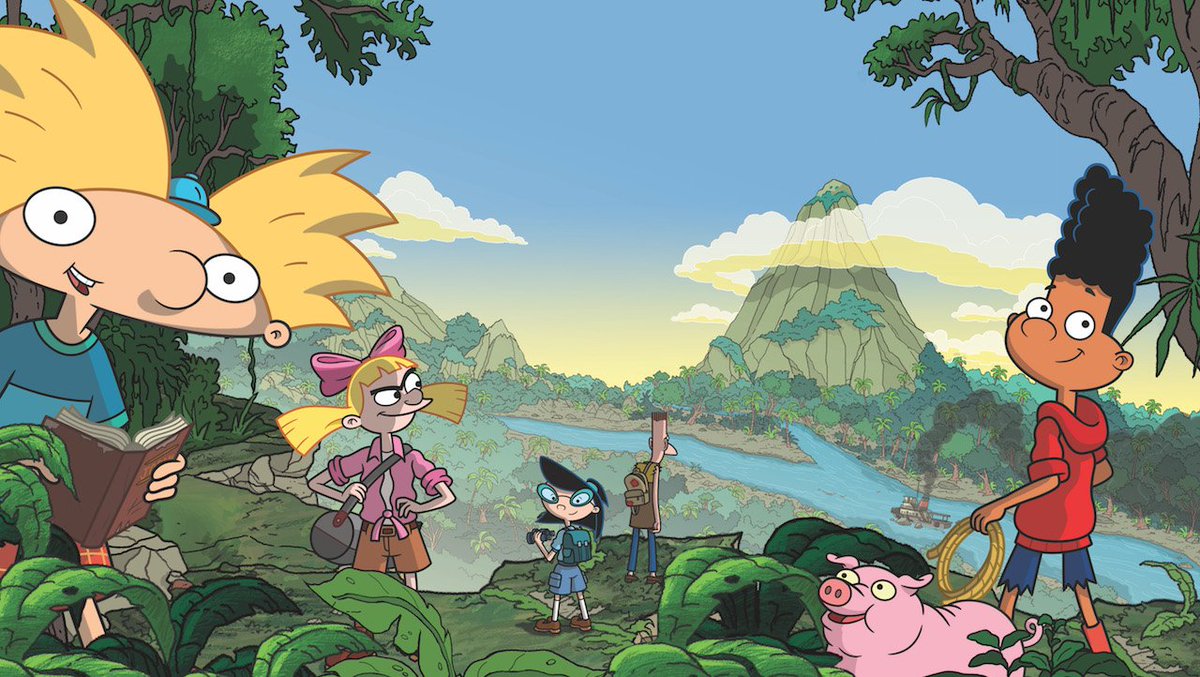 Oh, boi~ Last night my brother and I just finished watching the super expected film of Hey Arnold!: The Jungle Movie, and if you are a 90s kids, had no life, and only watch tv as a child, you will know what the Hey Arnold! tv show is, and how much it means to some kiddos. I am one of those kiddos, who watched Arnold and his friends, while growing up. This show, was like a friend to me, and the fact that it made an epic comeback, I just don't have words to describe this feeling, I can just say that somewhere inside me is crying of happiness, because this show it meant a lot to me.
The funny part is that before the movie came out, well, I decided to find the old episodes of Hey Arnold! in Spanish, because I grew up watching it in Spanish, and re-watched it, oh, and how did those episodes brought me to my youth. I just remember my young days, when I used to watch this show, and never got bored to me, never. I loved this show, I think it was one of the many shows, that taught me to be humble, and kind to others.
I have a confession to make, and it is that I had a huge crushed in Arnold. Yes! I said it, I loved that football head, and I blame him because he had that smoothly charm, and his kindness toward other, of course, he had steal my heart. Oh, and let's not forget about Helga. I never could hated her, even though she was secretely in love with Arnold, but was really mean to him. I think Helga is like me, hiding her emotions from her crushes. I remember that episode when Helga fantasize that she is having a romantic life with Arnold, as grown up, that was one of my favorite episode, and it is because I always rooted in Helga, and I did imagined Helga and Arnold together.
I don't know what else to say about this show, and its new film, I only can say that it was perfect, although, it was kind of a cliche in a way, but I loved it so much, and truly did, answered a lot of the question I had.
I remember, one time in high school, some of my classmates and I were talking about our favorite childhood tv shows, and Hey Arnold! came up in the conversation, and I was in top of my game when I talked about this show, but there was this one bastard, who said she hated this show, and she couldn't be anymore despicable. I hated that girl so much, and I still do. But the other thing that was a bummer was that my brother was also not into this show! I was so mad, that since few weeks ago, I sat him down and forced him to re-watched the show with me, and that is how the whole re-watching the show happened.
There where episodes that were going too deep, or really, really sad, or just pure happiness, and this film had it all as well. And if you may not know, in the film, there is a place that Arnold has to go to find his parents, and you'll see in the map that the professor Simmons shows, it kinds of looked like Guatemala! The country where I was born and raised. God, this film couldn't be anyway more destined for me!
Other thing about the show had was the Jazz in it, too bad in the film there wasn't as much of Jazz like the show did. Honestly, Hey Arnold! had the best music that a kids tv show could have. I am a huge dork for Jazz.
In the movie who also deserved two thumbs up was Brainy. Ah~ I remember that weirdo who always was behind Helga. But this time in the film, he did something so adorkable and it really earned that Helga kiss. Ooops~ Spoiler alert!
The film ended perfectly, I saw many of familiar characters  from the show, and find out the whole name of Arnold, and Ruth without braces (mind blowing), and Helga's finally confession toward Arnold, and Gerald and Phobe together, and Arnold finding his parents. I just have one thing to say to Arnold, and it is "We'll be waiting right here!" We always will. Thank you, Arnold, and Good luck in sixth grade, and I loved you very, very much!